Mixed Greens With Toasted Pecans, Chèvre and Blood Orange Vinaigrette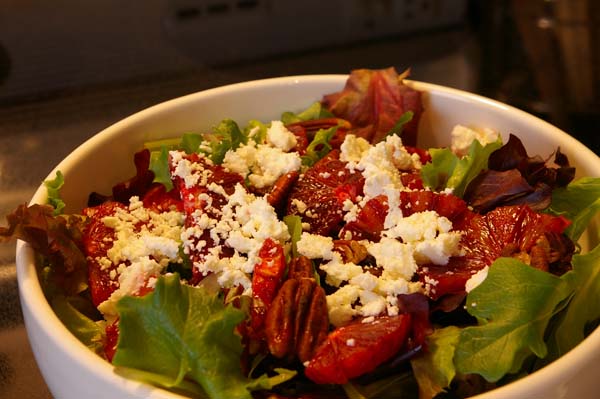 I don't know about you guys, but March has been kind of a "blah" month for me.  Hubby and I have been so busy this month, and I haven't been inspired to cook anything new, mostly for lack of time and energy.  Because of multiple responsibilities and demands on our time this month, I've been striving to cook simple meals, if I even cook at all.
With the month being as busy as it has been, I've also been on a personal kick to not be such a perfectionist all the time.  This is especially challenging for me, but I've been trying!  Oddly enough, the area in which I find myself striving the hardest for perfection is cooking, which is ironically also the pastime that relaxes me the most and gets me into my groove.  You don't have to tell me that this makes no sense at all.  But, with March coming to a close, I'm so excited to get back into the kitchen, as I have a slew of ideas for dishes rolling around in my head that I can't wait to try!
But enough about my life. Let's move onto the recipe!
I was at the grocery store a few weeks ago and saw some beautiful blood oranges for sale.   I hadn't ever bought them, but am always seeing recipes that include them.  I thought I'd give it a shot.  The night I made this I was feeling particularly "summery" and wanted to create something that reflected that.  I did some searching around for inspiration, and came up with this.
This is a beautiful spring/summer salad – refreshing and light.  The vinaigrette combines blood orange and lime juice, red wine vinegar, olive oil, and a shallot, and adds the perfect amount of tartness to contrast the earthy pecans and creamy chèvre.
To be honest, it wasn't a far cry from the type of salad I normally make, and I really could afford to get a little more creative.  But because I've only posted one or two salads here, only my hubby knows how often I make these. ;)  I find that the combination of greens, fruit, toasted pecans or almonds, and chèvre just makes my day.  I typically throw in some sliced green or red onion as well, but because the vinaigrette incorporated an entire shallot, I left that out this time around.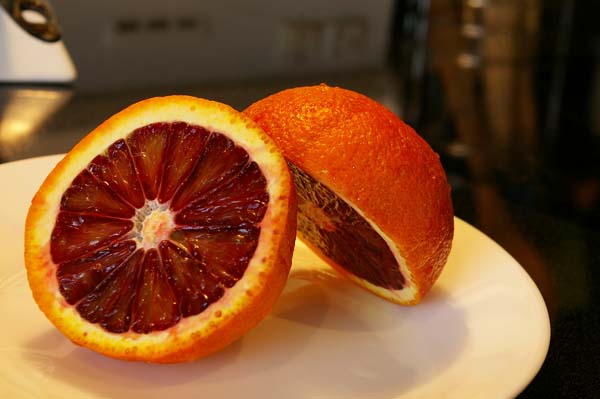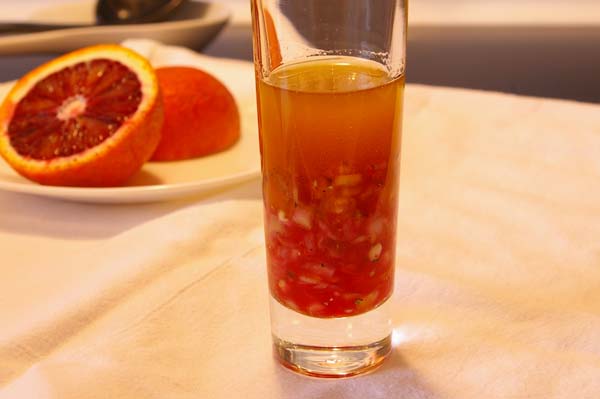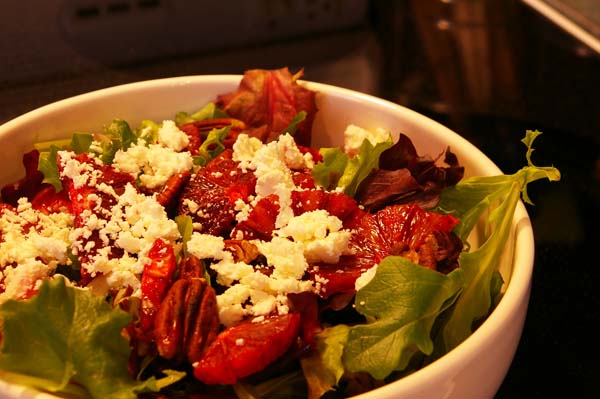 Mixed Greens With Toasted Pecans, Chèvre and Blood Orange Vinaigrette
Author:
The Gourmet Housewife
Ingredients
3 cups mixed greens
2 blood oranges
½ cup pecans
3 tbsp olive oil
2 tsp red wine vinegar
2 tsp lime juice
1 shallot, minced
½ tsp blood orange zest
¼ tsp lemon zest
salt & pepper to taste
crumbled chèvre to taste
Instructions
Place the pecans in a skillet over medium-high heat, stirring occasionally, until toasted and fragrant. Remove from heat and set aside.
Peel and segment one blood orange. Set aside.
Juice remaining blood orange and mix with olive oil, red wine vinegar, lime juice, shallot, and zests. Season to taste with salt and pepper.
Place mixed greens in a bowl. Top with orange segments, pecans, and crumbled chèvre.
Serve with vinaigrette.
You might also like: