Shrimp Lemon Pepper Linguini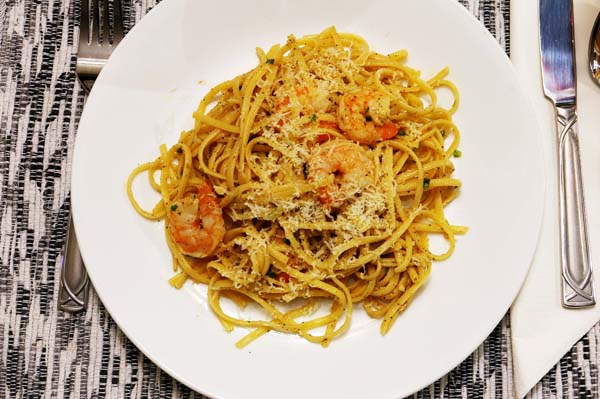 It feels like all I've been writing about lately has been chicken, shrimp, and roasted vegetables.  Yet when I look back, I noticed that I've thrown other random things in there: white chocolate brownies, homemade bagels, chunky cheesecake brownies, and scallops, to name a few.  It still feels a little overkill on the three first-mentioned dishes, but hopefully the recipes are yummy enough that you won't mind.
And now, I have yet another shrimp recipe for you.  Though shrimp is rather delicious, and I know you agree, so again, I'm sure you won't mind.
The pepper in this dish makes it quite spicy, so if you're not a fan of spice, I'd recommend cutting back on that a bit.  Otherwise, there's not much else to report on.  The title pretty much explains the recipe.  Lemon, pepper, shrimp, linguini.  Oh, and LOTS of garlic.  I do heart my garlic.  And my wine – which you'll notice is always within arm's reach.
P.S.  Next up is yet another chicken dish, and another roasted vegetable dish.  Obsess much?
P.P.S.  I plan on making some biscotti this weekend, so hopefully that will shake things up a bit and get me out of this lull.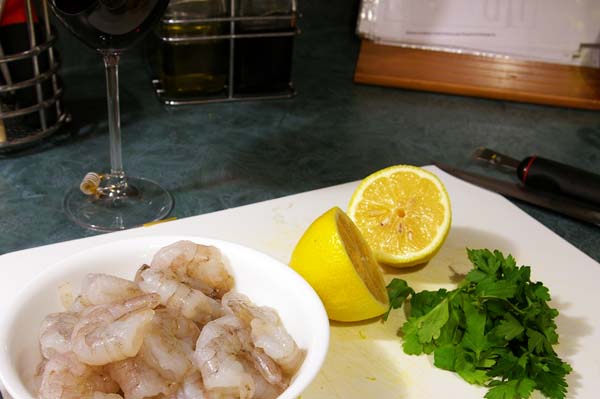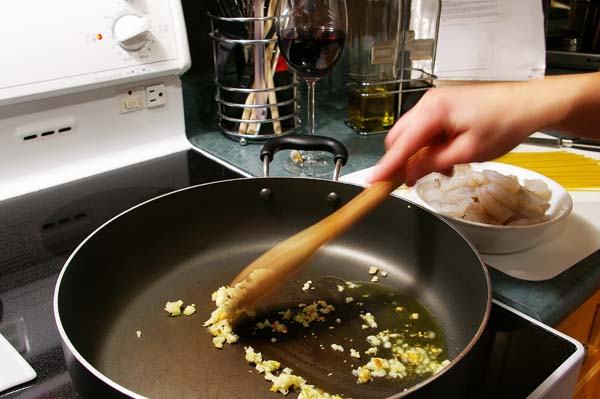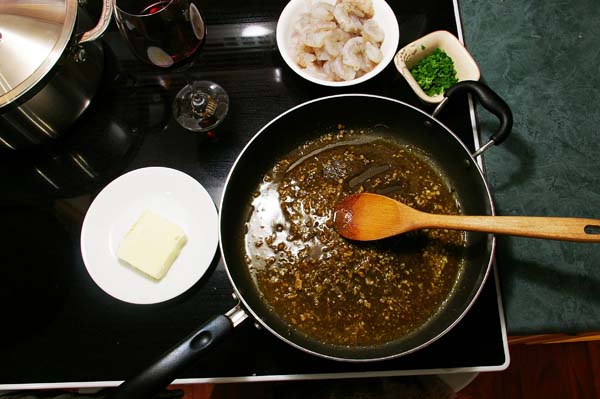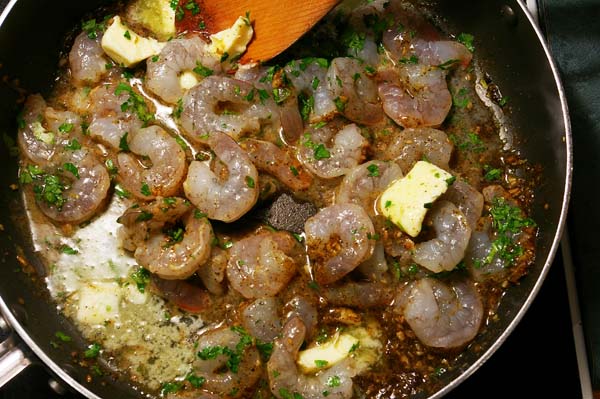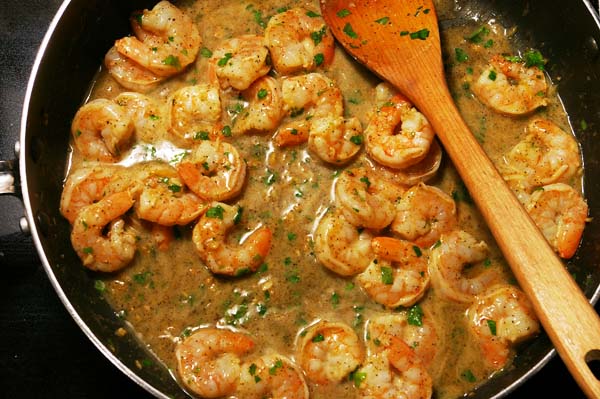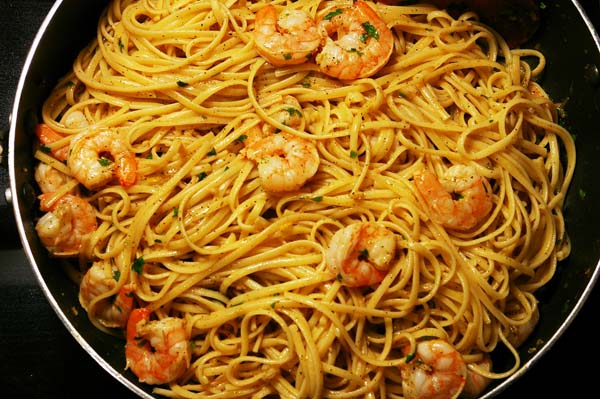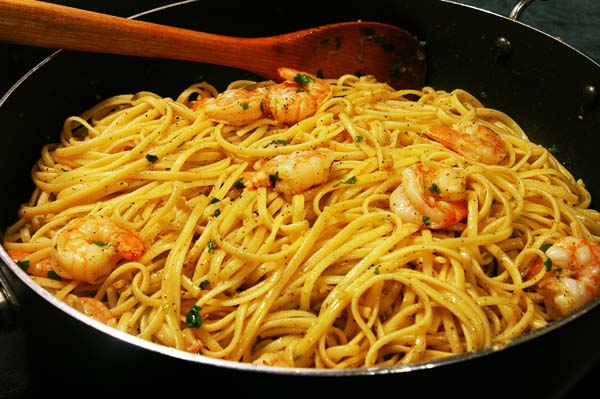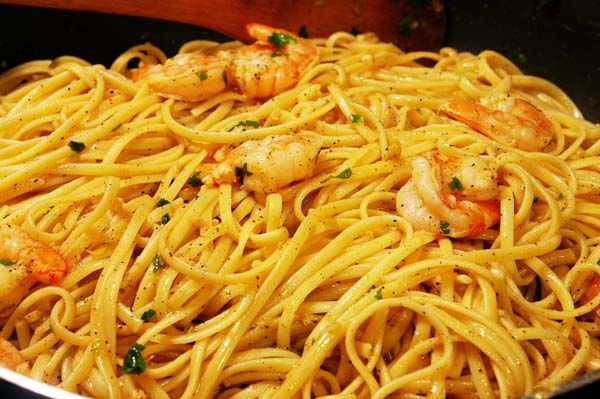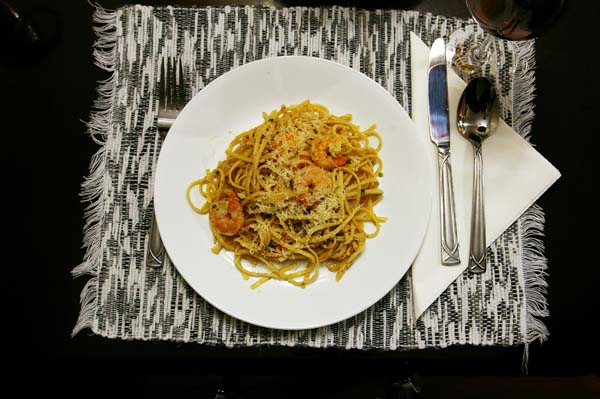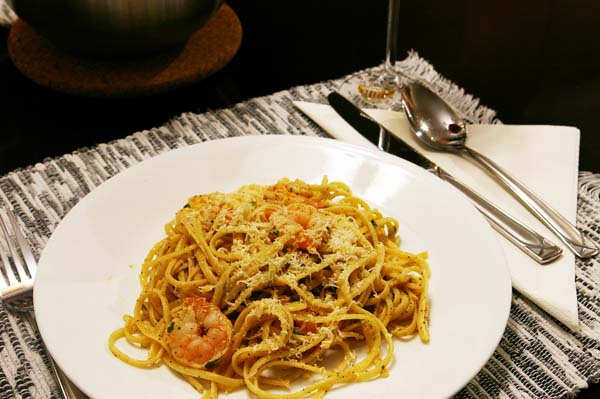 Recipe courtesy of allrecipes.com.
Shrimp Lemon Pepper Linguini
Author:
The Gourmet Housewife
Ingredients
1 (454g) package linguine pasta
1 tbsp olive oil
6 cloves garlic, minced
½ cup chicken broth
¼ cup white wine
1 lemon, juiced
½ tsp lemon zest
salt to taste
2 tsp freshly ground black pepper
1 lb fresh shrimp, peeled and deveined
¼ cup butter
3 tbsp chopped fresh parsley
1 tbsp chopped fresh basil
Instructions
Bring a large pot of lightly salted water to a boil. Add linguine, and cook for 9 to 13 minutes or until al dente; drain.
Heat oil in a large saucepan over medium heat, and saute garlic about 1 minute. Mix in chicken broth, wine, lemon juice, lemon zest, salt, and pepper. Reduce heat, and simmer until liquid is reduced by about ½.
Mix shrimp, butter, parsley, and basil into the saucepan. Cook 2 to 3 minutes, until shrimp is opaque. Stir in the cooked linguine, and continue cooking 2 minutes, until well coated.
You might also like: