Spicy Lemon Garlic Shrimp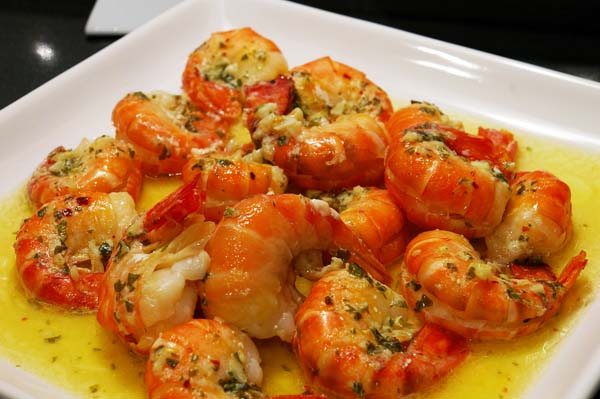 Ree Drummond (aka The Pioneer Woman) is one of my idols.  Her writing style, her photography, and of course her cooking make me aspire to be even an ounce as good as her one day.  My pictures don't even come close to comparing to hers, but this recipe was so yummy that I had to share (inadequate pictures and all).
The best part about this recipe is how easy it is.  You can cook the shrimp from frozen and in the shell (which I did, it being a week night and all) by throwing all the buttery goodness right on top and baking.  In less than 25 minutes, you'll have the most delicious, melted butter-y, garlicky, and spicy concoction.  You MUST have bread to soak it all up.  Trust me.
The only change I made was to use salted butter instead of  using unsalted –  though I did cut back on the salt called for in lieu.  But in the end we added more salt and pepper anyway, so take my advice with a grain of salt (hee, hee).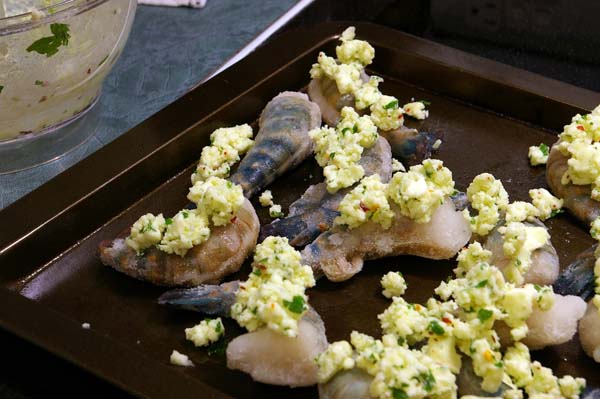 Recipe courtesy of The Pioneer Woman.
Spicy Lemon Garlic Shrimp
Author:
The Gourmet Housewife
Ingredients
2 lbs frozen raw shrimp, deveined, shells on
1 cup cold unsalted butter cut into pieces
1 tsp salt
4 cloves garlic, peeled
¼ cup fresh parsley
½ tsp red pepper flakes
1 lemon, juiced
Instructions
Preheat oven to 375°F.
Rinse frozen shrimp to separate, then arrange in a single layer on a baking sheet.
In the bowl of a food processor, add cold butter, garlic, lemon juice, salt, parsley, and red pepper. Pulse until combined. Sprinkle cold butter crumbles over the shrimp.
Bake until shrimp is opaque and butter is hot and bubbly (cooking time depends on size of shrimp – consult package directions).
You might also like: