Almond Crusted Chicken with Caramelized Onions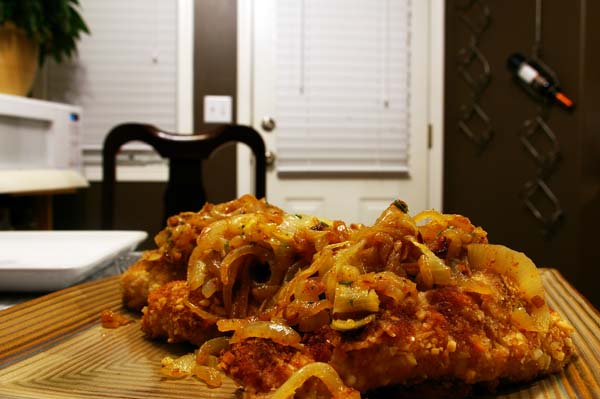 I have a thing for caramelized onions. And garlic. I think it's a very unnatural thing. I wish I was exaggerating. Fortunately, knowing that I have to be around other people and that they would be repulsed by the smell of onion and garlic emanating from my pores…I refrain. Mostly. The only time I really couldn't help myself was when hubby went on a boys-only fishing trip up north last summer….I totally pigged out on roasted garlic.
This recipe lets me indulge in my slight, um, fetish, without knocking out those sitting next to me. The original recipe called for toasted hazelnuts. I've made the recipe using both hazelnuts and almonds, and almonds taste just as delicious (I might even be daring and say that they're better!), and are cheaper. Bonus!
The trick is to slowly, slowly, slowly caramelize your onions at a medium to medium-low temperature. Make sure that they're all sliced up before you put your chicken in the oven, because they will take at least a full 20 minutes to caramelize, which you'll do as your chicken bakes.
But really, you need to give this one a try. I'd go out on a limb and say that this is quite possibly one of my favorite chicken dishes. It looks fancy, and yet it's fairly easy. The perfect dish for guests!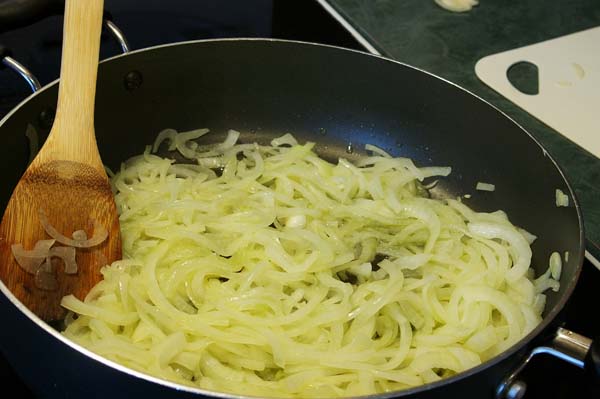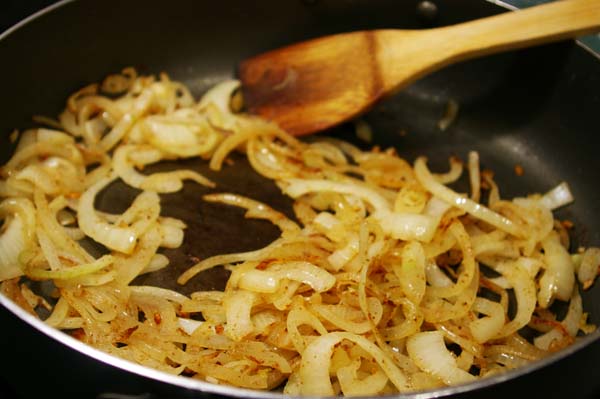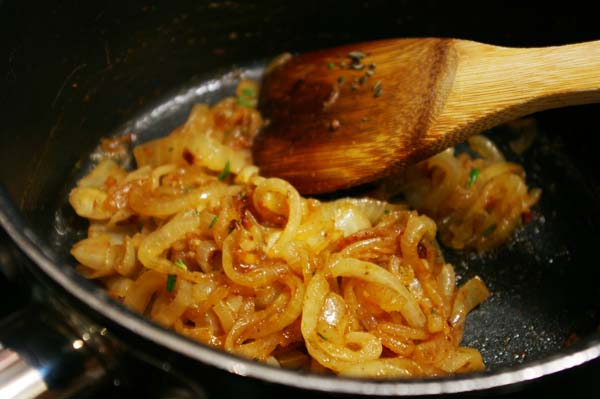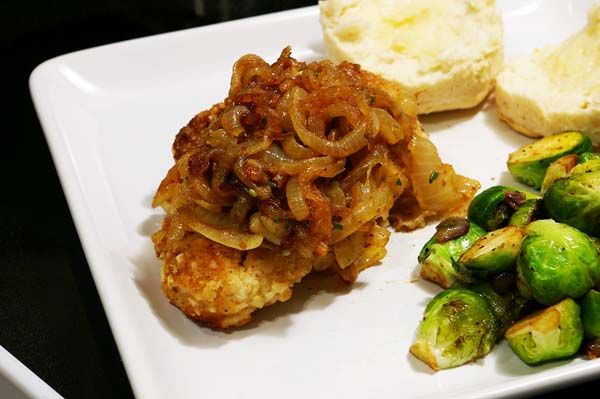 Recipe lightly adapted from a cookbook called "Fabulous Chicken".
Almond Crusted Chicken with Caramelized Onions
Author:
The Gourmet Housewife
Ingredients
6 bonless, skinless chicken breasts
½ cup all-purpose flour
2 eggs
½ tsp salt
½ tsp pepper
2 cups fresh breadcrumbs
1½ cups toasted almonds or hazelnuts, finely chopped
1 tbsp butter
3 tbsp olive oil, divided
3 large onions, halved and thinly sliced
1 cup chicken stock
2 tsp chopped fresh rosemary
Instructions
Preheat oven to 375°F. Lightly grease a baking sheet.
Place flour and chicken in a large resealable bag and shake to coat.
Beat together eggs, salt and pepper in a small bowl. In another bowl, stir together breadcrumbs and nuts. Dip chicken in egg, then in crumbs to coat well.
Heat butter and 1 tbsp olive oil in a large skillet over medium-high heat. Add chicken and cook until golden brown on both sides.
Transfer chicken to baking sheet and bake 20 minutes, or until juices run clear. Remove from oven and tent to keep warm.
Meanwhile, add 2 tbsp olive oil to skillet over medium heat. Add onions and cook 20 minutes, stirring occasionally. When onions begin to caramelize, add chicken stock and rosemary. Bring to a boil, lower heat, and simmer until ready to serve.
Top chicken with caramelized onions, and serve.
You might also like: