Easy Chicken Fajitas
Mmm. Fajitas. That's what I'm always thinking in my head when I'm about to make these. As always, simple recipe. They really are best with chicken thighs – all I had on hand last night were chicken breasts, and I found it to be a little drier and not quite as flavorful. The recipe also calls for green pepper, but I'm not a fan, so I always use red. I know, I'm such a rebel.
Serve with warm flour tortillas, salsa and sour cream, and you'll almost feel like you're in Mexico. Minus the whole beautiful beach and warm weather part.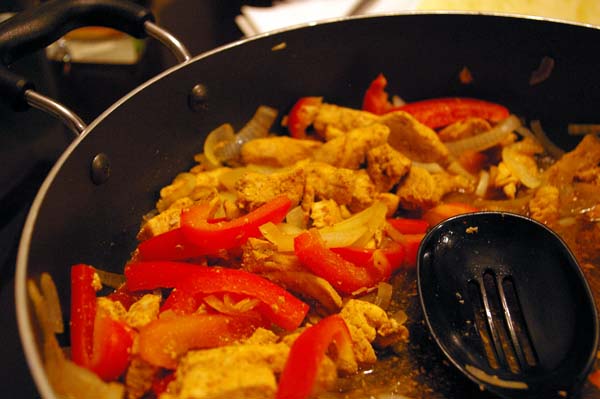 Recipe courtesy of allrecipes.com.
Ingredients:
1 tbsp Worcestershire sauce
1 tbsp cider vinegar
1 tbsp soy sauce
1 tsp chili powder
1 clove garlic, minced
1 dash hot pepper sauce
1 1/2 pounds boneless, skinless chicken thighs, cut into strips (approx. 8 thighs)
1 tbsp vegetable oil
1 onion, thinly sliced
1 red bell pepper, sliced
1/2 lemon, juiced
Directions:
1. In a medium bowl, combine Worcestershire sauce, vinegar, soy sauce, chili powder, garlic and hot pepper sauce. Place chicken in sauce, and turn once to coat. Marinate for 30 minutes at room temperature, or cover and refrigerate for several hours.
2. Heat oil in a large skillet over high heat. Add chicken strips to the pan, and saute for 5 minutes. Add the onion and red pepper, and saute another 3 minutes. Remove from heat, and sprinkle with lemon juice.
Yield: 5 servings
You might also like: