Thumbprint Squares
Okay, so it seems I have a bit of an obsession with jam-filled desserts. There were the Raspberry Oatmeal Squares, the Jam-Jams, and now these.
These were so easy too make, and delicious to boot! There's something about shortbread-bottomed desserts that make me forget that I'm still trying to lose some baby weight, and lose all self-control. It happened with the Twix Bars too. But I digress.
I promise you will love these. Now onto the recipe!
P.S. As I was typing up this recipe, I realized I completely forgot to drizzle the chocolate on. They were still delicious, which means that they would be positively sinful with chocolate drizzled on.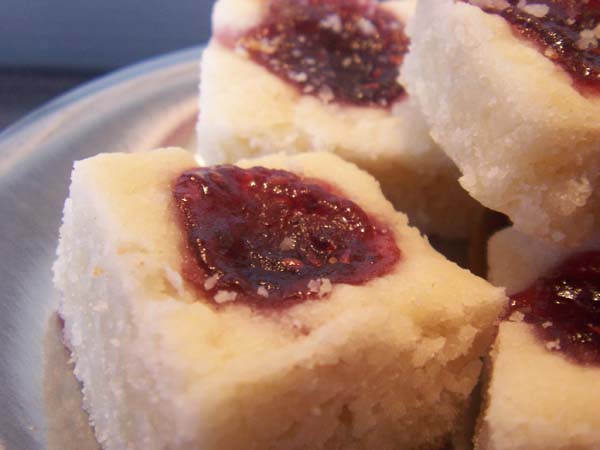 Recipe courtesy of The Gourmet Housewife's Mom aka "GH's Biggest Fan".
Ingredients:
3 cups flour
1 1/4 cup icing sugar
1 1/4 cup butter, softened
2 tsp vanilla
1 egg
3/4 cup jam
2 squares semisweet chocolate, melted
Directions:
1. Preheat oven to 400°F. Lightly grease a 9×13 inch baking dish.
2. Combine flour, icing sugar, butter, vanilla and egg in a large bowl. Beat on low speed until dough forms into a ball. Press into prepare baking dish.
3. Mark dough into squares with the tip of a sharp knife, only scoring lightly, not cutting al the way through. Press an imprint into dough with your thumb in the center of each square. Place about 1 tsp jam in each imprint.
4. Bake in preheated oven for 15-20 minutes, or until lightly browned. Re-cut while warm along marked lines. Cool.
5. Drizzle melted chocolate over squares.
You might also like: