Sweet and Spicy Cashew Chicken
I cheated on this recipe. First of all, I didn't have two red peppers. I had an orange one and a yellow one. Second, I didn't follow the instructions exactly for method and length of cooking time.
In any case, this dish turned out fabulous. And most importantly, it was quick and easy.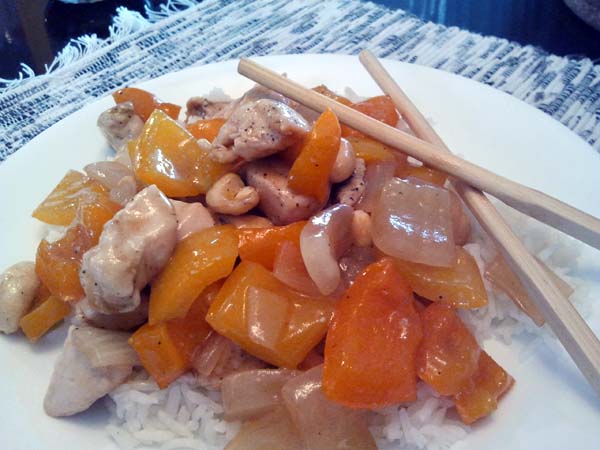 Recipe adapted from Canadian Living.
Ingredients:
1/2 cup chicken broth
3 tbsp oyster sauce
1 tbsp sugar
1 tbsp cornstarch
1 tbsp white vinegar
2 tbsp vegetable oil
1 lb boneless skinless chicken breasts, cut in chunks
1/4 tsp each salt and pepper
2 sweet peppers, chopped (red, orange, or yellow)
2 onions, chopped
1 tsp Thai chili paste or sambal oelek
1/2 cup roasted unsalted cashews
3 green onions, chopped
Directions:
1. In a small bowl, whisk together chicken broth, oyster sauce, sugar, cornstarch and vinegar. Set aside.
2. In a wok or large skillet, heat half of the oil over medium-high heat. Stir-fry chicken, salt and pepper until chicken is cooked through. Transfer to plate and keep warm.
3. Add remaining oil to wok, stir-fry peppers, onions and chili paste until vegetables begin to soften. Return chicken to pan.
4. Add cornstarch mixture, stir-fry for 1 minute. Add cashews and green onions, stir-fry for 1 minute. Serve over rice or noodles.
Yield: 4 servings
You might also like: