Nectarine, Basil, and Chèvre Pizza with Balsamic Reduction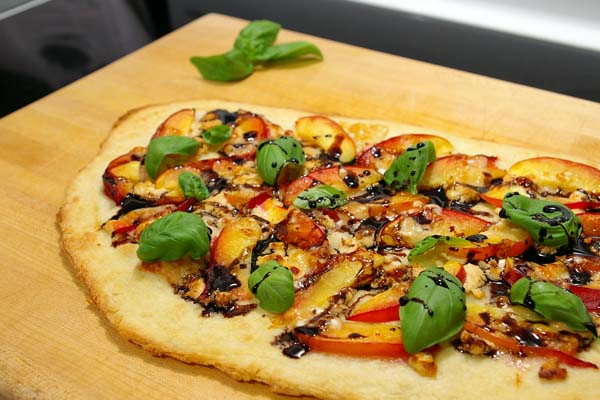 The moment I saw a picture for this pizza on Pinterest, I knew I would love it.  Why you ask?  How much time do you have?
1.  I heart am obsessed with balsamic.  See how much here.
2.  I also am obsessed with chèvre – or goat cheese for those of us who are less-refined.  And yes, I'm lumping myself in that category.  I only write chèvre for the purpose of this blog.  I am not classy enough to actually call it that.
3.  The combination of chèvre and fruit tastes downright sinful.
4.  Basil is my newest addiction.  My lovely sister-in-law recently got me hooked on adding piles of torn basil to salads. Yummy!
5.  What's not to love about pizza?
Hubby is on another boys-only fly-in fishing trip up North.  He went on one last year (you can read about my adventures last time here and here).  And so I make all the best food while he's gone.
KIDDING.
When I showed him this recipe and told him I was thinking of making it, he said it looks "weird".  That was his reaction.  So I thought, "Fine.  I'll make it for myself and get to enjoy it without having to share."  Which is exactly what I did.
I used a fig chèvre, but feel free to switch up the cheese.  Not a huge goat cheese fan?  No problem – try ricotta, blue cheese, or Boursin.  Whatever floats your boat. ;)  I guarantee it will still be delicious.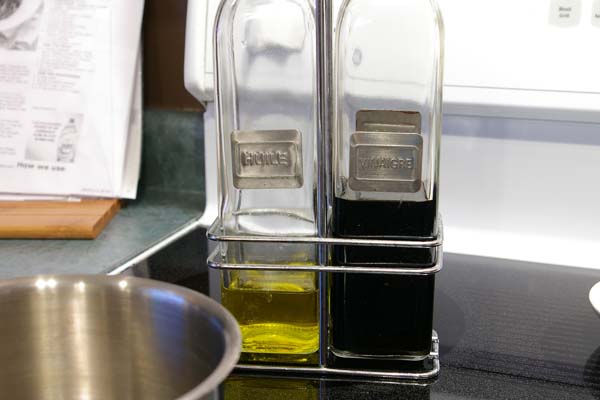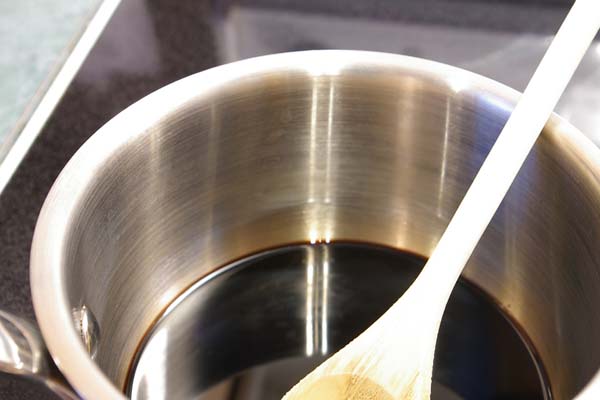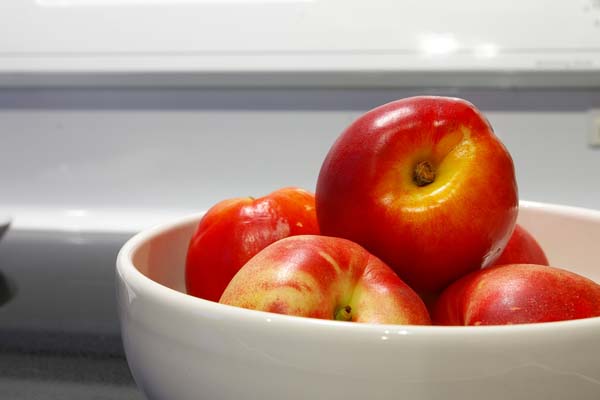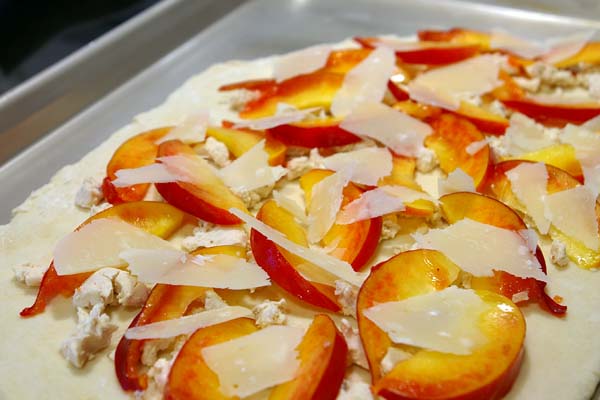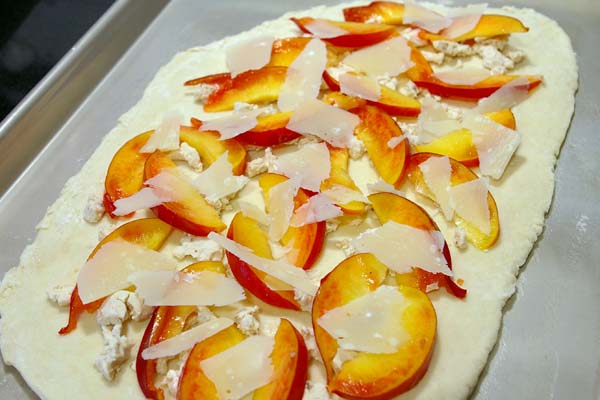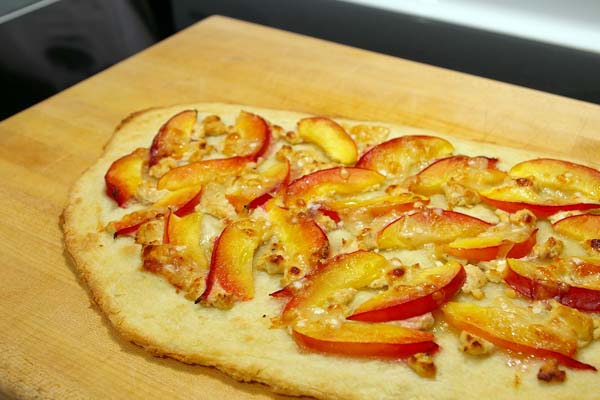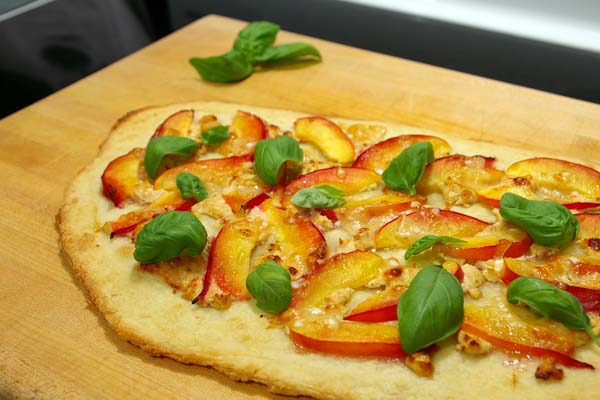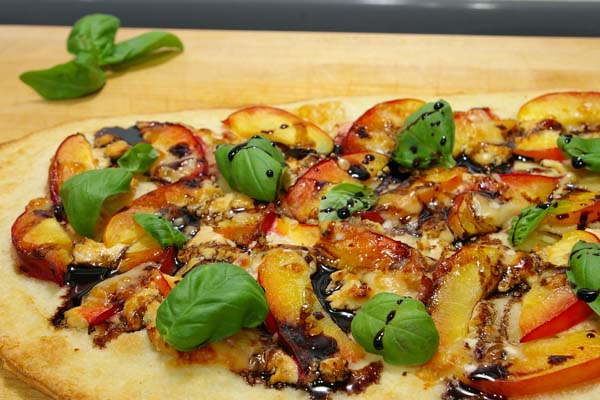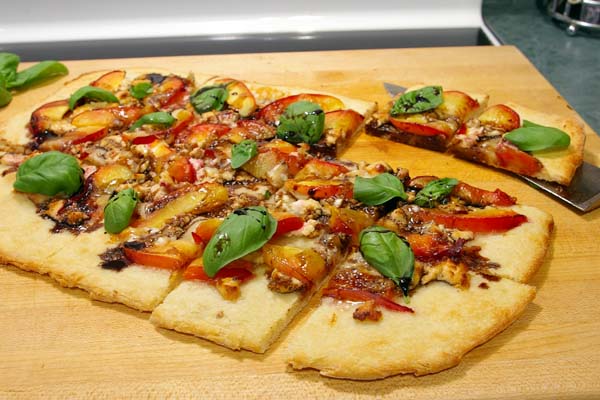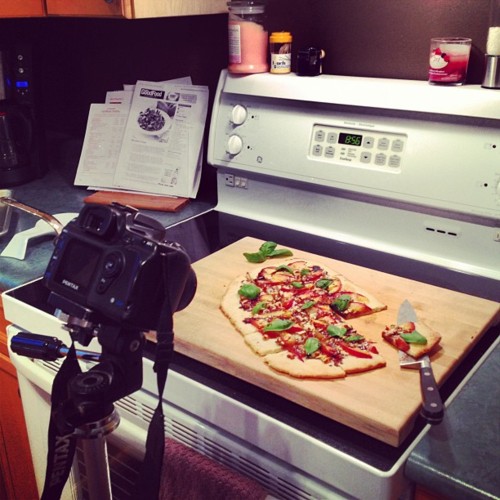 Recipe lightly adapted from alexandra's kitchen.
Nectarine, Basil, and Chèvre Pizza with Balsamic Reduction
Author:
The Gourmet Housewife
Recipe type:
Appetizer or Main Dish
Ingredients
¼ cup balsamic vinegar
¼ recipe Jamie Oliver's pizza dough: http://www.gourmethousewife.com/2011/09/jamie-olivers-pizza-dough/
olive oil for greasing
½ cup (approx.) chèvre (or fresh ricotta, buffalo mozzarella, Boursin, mascarpone – whatever you like)
1 nectarine, thinly sliced
⅓ cup shaved fresh Parmesan
fresh basil (approx. 20 leaves)
Instructions
Place balsamic in a small pot on medium-high. Let simmer until reduced and noticeably thick. Remove from heat and let cool. Sauce will continue to thicken as it sits.
Preheat oven to 500°F. Grease a pizza pan with olive oil or dust with cornmeal.
On a floured surface, roll out your dough. Transfer to prepared pan.
Rub dough with enough olive oil to coat the surface evenly.
Crumble/spread chèvre over dough. Top with nectarines and Parmesan.
Bake in preheated oven for 10 minutes, or until the crust is slightly brown and the cheese is melting.
Remove from the oven and sprinkle with fresh basil. Drizzle with the reduced balsamic. Slice and serve warm.
You might also like: