Homemade Granola Bars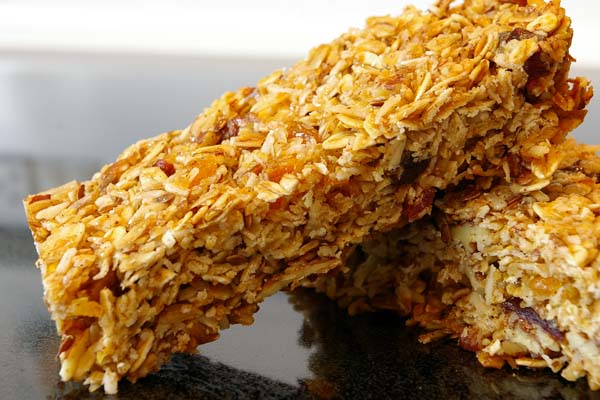 It was a challenge that brought me to create this recipe.  Well, not a challenge per se, but more of a request.  You see, a co-worker and his wife recently had a baby (their 3rd – I can barely cope in life with one!).  Anyway – another co-worker was planning to bring them some food (because if you've had a baby, you know that the last thing on your mind those first few weeks is cooking).  So she was planning on making some lasagna, and was also thinking that homemade granola bars would be good, but decided it wasn't really her thing.  So she messaged me at work and asked if I'd be up for it.  I had never made homemade granola bars, but I love a challenge!
I got the base recipe and inspiration from the Barefoot Contessa, but added a bunch of stuff, like pecans, cinnamon, flax seed, etc.
I like to call these "Make You Poop Bars".  Because with 1/4 cup flax and 1 cup dried fruit, it's sure to get the plumbing working down there.  Not that I want that to scare you away, because these really turned out fabulous (if I do say so myself), but it was the first thing I thought of.  Mainly because I have a 19-month-old boy.  Poop and the discussion thereof occupies 50% of my day.
TMI?  Sorry about that – I'm done, I promise.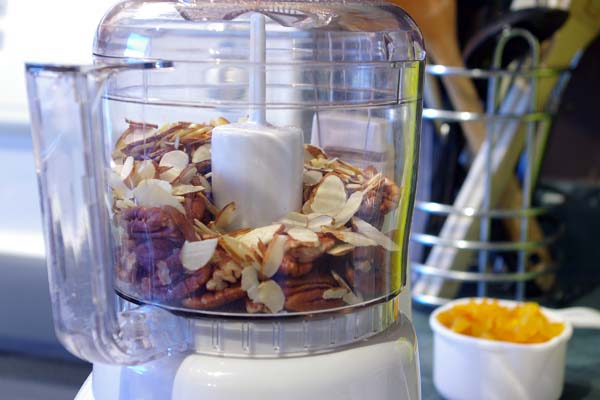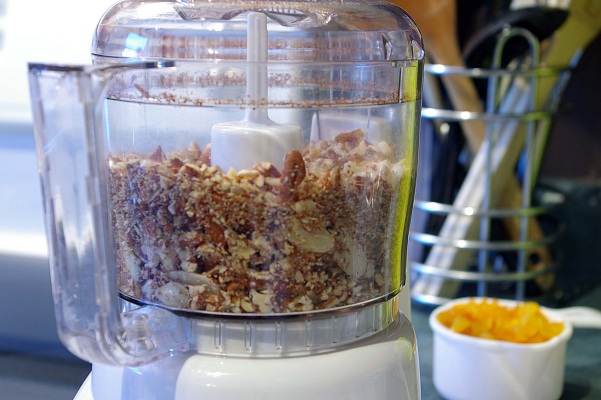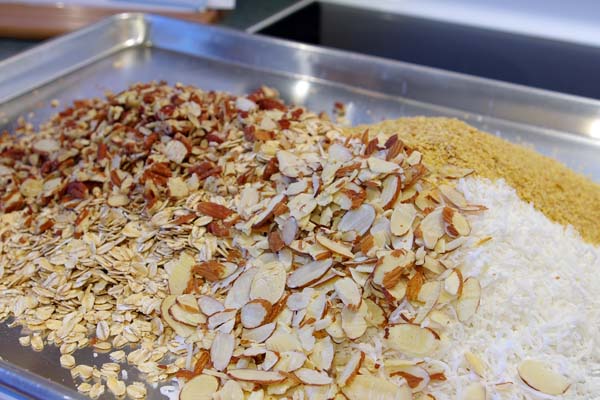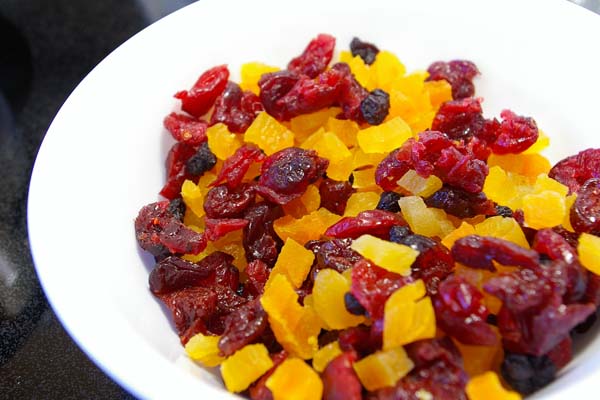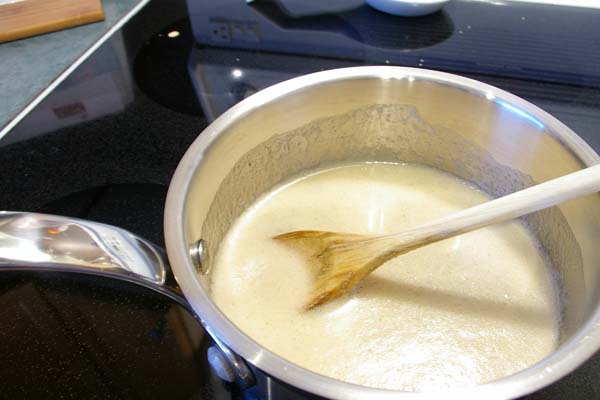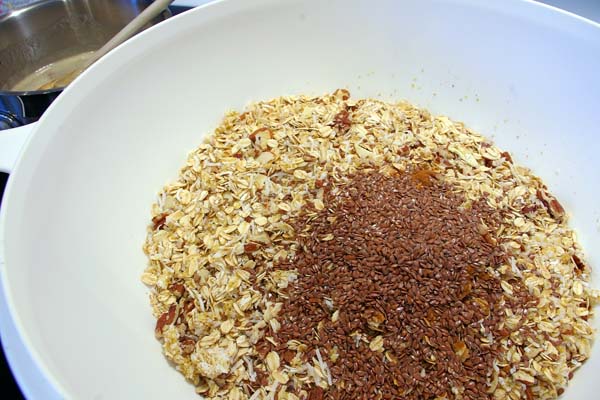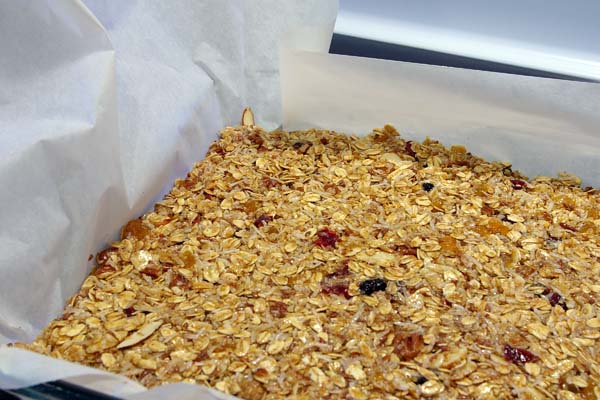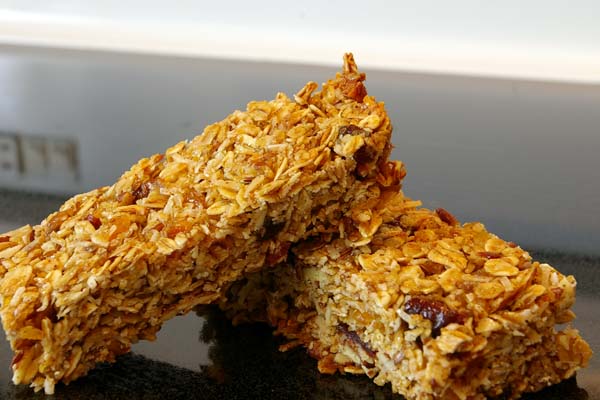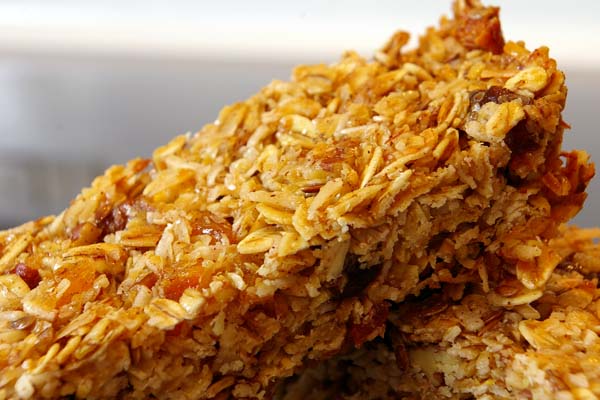 Recipe inspiration from Barefoot Contessa.
Author:
The Gourmet Housewife
Ingredients
4 cups old-fashioned or large flake oats
2 cups coconut
1 cup slivered almonds
1 cup pecans
1 cup wheat germ
6 tbsp butter
1⅓ cup honey
3 tsp vanilla
½ cup brown sugar, lightly packed
¼ tsp salt
⅓ cup dried blueberries
⅓ cup dried cherries, chopped if big
⅓ cup chopped dried apricots
2 tsp cinnamon
⅓ cup flax
Instructions
Preheat oven to 350°F.
Coarsely chop pecans and half of almonds. Place chopped nuts on a large rimmed baking sheet, along with oats, coconut, wheat germ, and remaining almonds. Bake for 10 to 12 minutes, stirring occasionally, or until lightly browned. Remove from oven and place in a large bowl.
Reduce oven temperature to 300°F. Grease a 10×15 inch baking pan and line with parchment paper. Set aside.
Place the butter, honey, vanilla, brown sugar and salt in a medium saucepan and bring to a boil over medium heat, stirring occasionally. Allow mixture boil for 1 minute, then pour over toasted ingredients.
Add dried fruit, cinnamon, and flax seed, and stir to combine.
Press mixture into prepared baking pan. Grease a piece of wax or parchment paper, and place greased side down over mixture in pan. Press firmly into the pan. Discard the paper.
Bake in preheated oven for 25-30 minutes. Cool for at least 2-3 hours before cutting into bars
You might also like: