Boozy Pulled Pork
Update: I recently made this recipe, but was out of Jack Daniels. I substituted the JD for some bourbon, and…I will never go back. (Insert angels singing here). Unfortunately I named this recipe "Jack Daniels Pulled Pork", so it leaves me in a bit of a pickle. I might live on the edge a little bit and rename the recipe…or maybe I should just let you choose your liquid courage addition of choice.
P.S. I also added in some garlic – which is really duh, cause why wouldn't I do that before?
Update #2: As you can see, I decided that wearing mis-matched socks once in awhile wasn't adventurous enough for me. I…*deep breath*…renamed the recipe. If you're a Jack Daniels fan, don't hate me – the old link is still accessible for your viewing pleasure: http://www.gourmethousewife.com/2012/05/jack-daniels-pulled-pork/
=============================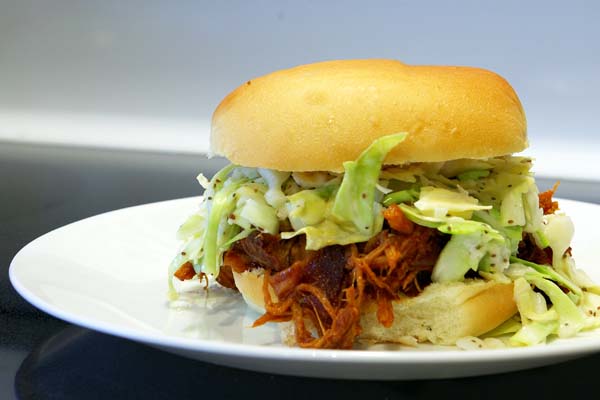 So. Y'all have heard me talk about my friend Leanne before.  She's been a guest author on the site once (I keep trying to convince her to do more).  She was a willing participant in the perogy-making escapade.  Most importantly, she's a fellow foodie who shares recipes with me all day long and always brings delicious homemade treats to work, usually involving baking or bacon.  Or both.
When I was searching for a pulled pork recipe, of course I went to her first.  And as always, she had a tried and true recipe to share with me.
I made her recipe once before, and of course, it was all kinds of yummy.  Then one day I was browsing recipes, and I saw one for pulled pork that called for Jack Daniels barbecue sauce.  And it hit me.  How amazing would this recipe be with some straight up JD?  Like unreal amazing – that's how much.  Of course, the fact that I was planning to incorporate booze into a recipe will come as a shock to no one.
So I decided to test it out.  And I threw in some minced onion for good measure, but that's just an aside.
Let me tell you.  I will never go back.  You must try this recipe.  Now.
I served this with homemade coleslaw.  I wanted to make homemade buns too, but alas, I was out of yeast, and it was pouring rain, and I didn't want to ruin my hair by going outside.  So I made hubby stop at the convenience store and get some hamburger buns, which are definitely not as good as homemade.  I'm sorry for letting you down.  But my hair looked really great that day.  You understand, right?
Of course, the star of the show is below.  Look at that gorgeous, smoky bottle.  I wish I could say I got that look on purpose.  But really, it's just my crappy photography skills using the wrong filter.  Oops.
Oh, and on a similar note, a bunch of the pictures are blurry.  My camera battery was dying.  But I didn' t know that.  But now that I do –  I'm going to blame it on that.  Because it's so much easier to blame it on faulty technology than to keep feeling like a failure at photography.
One last thing and then I promise I'm done.  This recipe freezes amazingly.  And it's delicious on homemade nachos.  And I'm going to try it on pizza this week too – which is sure to be a hit.  So don't worry if you have a lot – the freezer is your friend!
Recipe adapted from the lovely Leanne.
Boozy Pulled Pork
Author:
The Gourmet Housewife
Ingredients
2 lb pork loin roast
¼ cup ketchup
½ cup barbecue sauce
¼ cup apple cider vinegar
¼ cup bourbon or Jack Daniels whiskey
¼ cup brown sugar, lightly packed
1 tsp dijon mustard
1 tbsp worcestershire sauce
2 tbsp minced onion
1 clove garlic, minced
½ tsp smoked paprika
½ tsp cayenne or hot sauce
freshly ground salt and pepper to taste
Instructions
In a medium-sized bowl, mix together ketchup, barbecue sauce, vinegar, bourbon or whiskey, brown sugar, dijon, worcestershire, onion, garlic, paprika, cayenne and salt and pepper.
Place roast in your slow cooker. Pour sauce mixture over. Cook on low for 8-10 hours.
Shred with two forks while still warm.
You might also like: