Perfect Dinner Rolls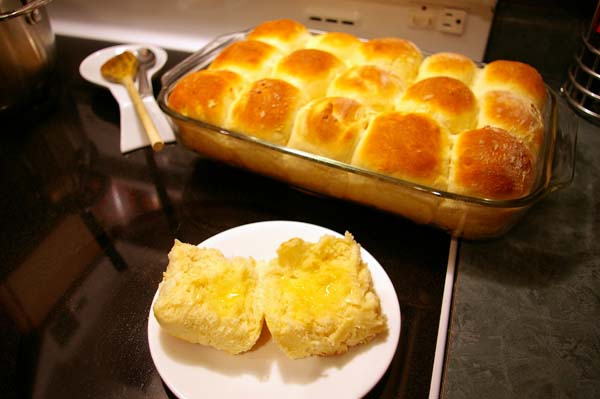 This was my first attempt at homemade buns. You would think that since I always make homemade bread, I would have attempted buns at some point, but nope.
These were amazing. Melt in your mouth, soft, delicious, and so homemade tasting. I didn't get any other pictures than these because I was too busy shoving them into my mouth.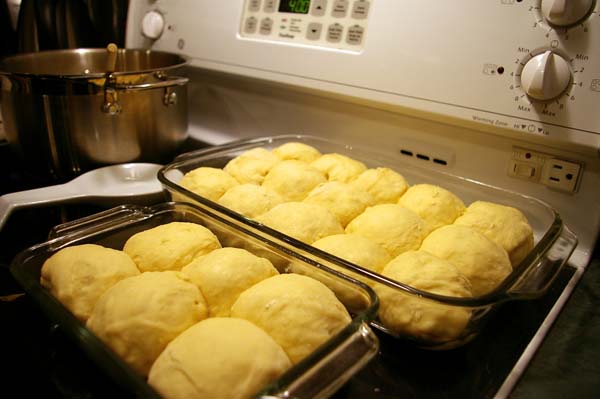 Recipe adapted from allrecipes.com.
Author:
The Gourmet Housewife
Ingredients
2½ cups warm milk
4 tsp active dry yeast
½ cup sugar
2 eggs
½ cup butter, softened
2 tsp salt
7½ cups all-purpose flour, or as needed
Instructions
Pour milk into a large mixing bowl, and sprinkle yeast over the surface. Allow to rest for 5 minutes. Beat in the sugar, eggs, butter, and salt; blend thoroughly. Gradually stir in the flour to make a soft dough. Cover bowl, and set in a warm place until dough doubles in size, about 1 hour.
Punch down the dough, cover the bowl, and allow to rise again. Repeat this step two more times (about 20 minutes per rise).
Break off 2 to 3 inch size pieces of dough, roll lightly into round shape, and place in prepared baking dish, edges touching. Repeat with rest of dough. Cover and let rise until doubled in size.
Preheat oven to 400°F. Lightly grease a 9×13 inch baking dish (I also needed another small baking dish).
Bake rolls in preheated oven until tops turn golden brown, 10 to 15 minutes.
You might also like: