Mediterranean Roasted Vegetable Soup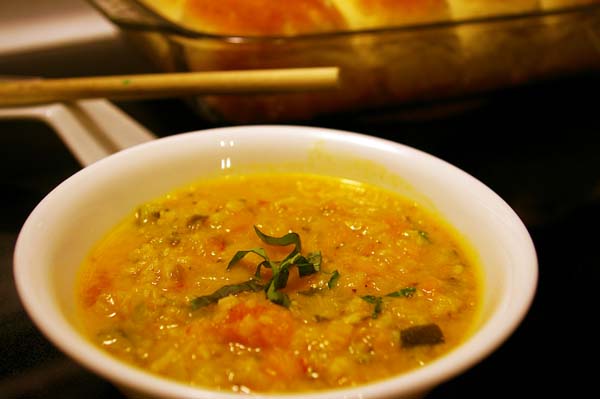 Our 1-year-old son has been going through a "phase" lately. One of those super fun (read: not super fun) eating stages. Mainly, he would like to live on bread, bread, and oh, did I mention bread? (To be perfectly honest – he comes by it naturally). He also likes applesauce and yogurt. Not exactly the most nutritionally packed foods.
Fortunately, he seems to still like soup. When I made some quick Campbell's Cream of Mushroom soup, he gobbled it up. So I thought, well, at least I can get his veggies in if I make a homemade soup. Which prompted this recipe.
Sadly, it didn't work. He wouldn't bite (literally). Fortunately, the soup was delicious, and at least nutritious for hubby and I!
This is one of those perfect weekend recipes, but quick enough for a last minute weeknight supper, because total cooking time is only about 1 hour. I ended up throwing in some leftover cooked brown rice – because I had frozen it to use for soup. It worked out perfectly!
The cast: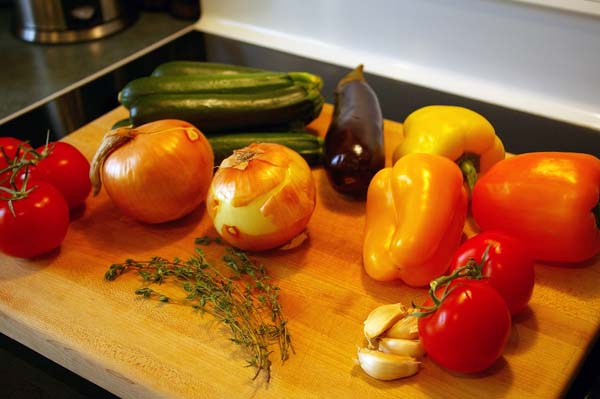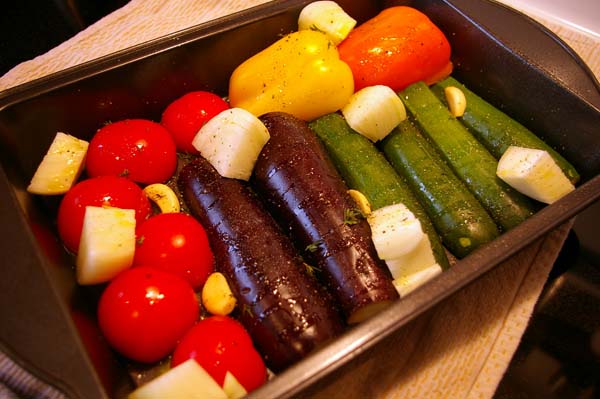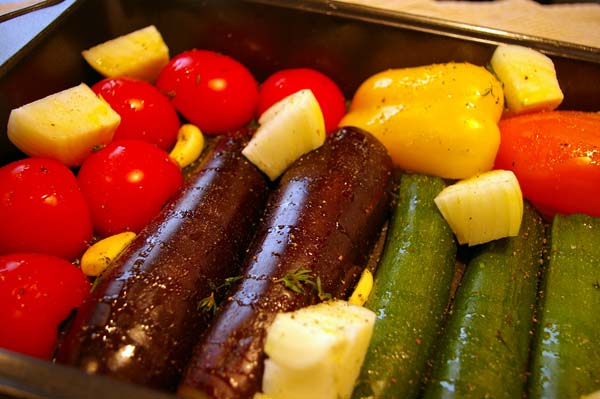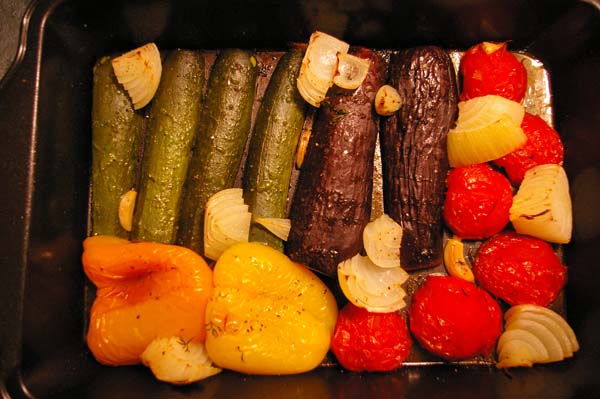 Recipe lightly adapted from Cookshelf "Soups" cookbook.
Mediterranean Roasted Vegetable Soup
Author:
The Gourmet Housewife
Ingredients
2-3 tbsp olive oil
1 lb ripe tomatoes, cored and halved
3 large yellow bell peppers, halved, cored and deseeded
3 zucchini, halved lengthwise
1 small eggplant, halved lengthwise
4 garlic cloves, halved
2 onions, cut into eighths
1 tsp chopped fresh thyme (or pinch dried)
4 cups chicken, vegetable, or meat stock
2 cups cooked rice (optional)
½ cup light cream
salt and pepper
shredded basil leaves, to garnish
Instructions
Preheat oven to 375°F.
Lightly grease a large shallow baking dish. Laying them cut-side down, arrange the tomatoes, bell peppers, zucchini and eggplant in one layer (use two dishes if necessary). Tuck the garlic cloves and onion pieces into the gaps and drizzle the vegetables with olive oil. Season lightly with salt and pepper, and sprinkle with the thyme.
Place in the preheated oven and bake, uncovered for 30-35 minutes, or until soft and browned around the edges. Leave to cool, then scrape out the eggplant flesh and remove the skin from the bell peppers and tomatoes.
Working in batches, put the eggplant, bell pepper and zucchini into a food processor and chop to the consistency of salsa; do not purée. Alternatively, place in a bowl and chop together with a knife.
Combine the stock and chopped vegetable in a saucepan and simmer over a medium heat for between 20-30 minutes until all the vegetables are tender and the flavors have completely blended.
Stir in the cream and rice (if using) and simmer over a low heat for about 5 minutes, stirring occasionally until hot. Taste and adjust the seasoning, if necessary.
Ladle the soup into warm bowls, garnish with basil and serve.
You might also like: