Twix Bars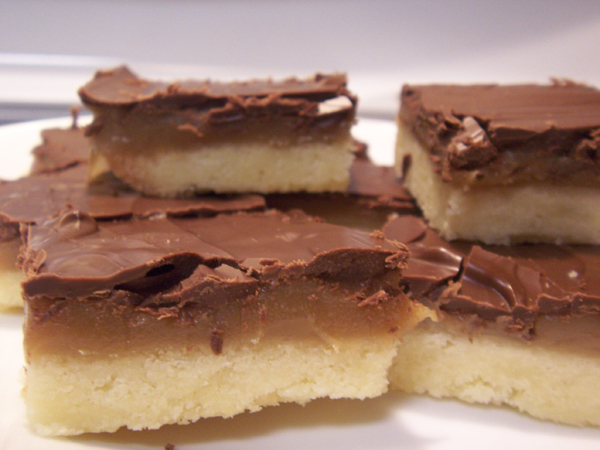 Oh my. Oh my. Oh my. Oh my. Jesse's aunt and uncle were coming over last night for coffee and, being the good wife, I decided to bake something. I forgot why I don't bake these. I forgot how amazing they are. I ate three. THREE! One to make sure they tasted okay before serving them to company – that was polite of me, right? One while they were here, to encourage them not to be shy – again, very polite of me, right? And one when I was putting them away – this one had nothing to do with politeness. That is why I don't bake these. Because I lose all self-control, and when you don't have much to start with, that is a very dangerous thing.
Who doesn't like Twix bars? My only complaint with Twix is that there is never enough in the package. Solution? Make an entire tray of Twix bars! Shortbread bottom, caramel center, chocolate topping. Mmm…yes please!
Twix Bars
Author:
The Gourmet Housewife
Ingredients
½ cup + 2 tbsp butter, softened
¼ cup granulated sugar
1¼ cup flour
½ cup butter
½ cup brown sugar, packed
½ cup sweetened condensed milk
2 tbsp corn syrup
½ cup chocolate melting or dipping wafers
¼ cup semi-sweet chocolate chips
Instructions
Preheat oven to 375°F. Lightly grease an 8×10 inch pan.
Combine ½ cup + 2 tbsp butter with granulated sugar and cream until fluffy. Slowly add flour. Pat into prepared pan. Bake for 18-20 minutes in the preheated oven, or until just golden brown. Remove from oven and let cool.
Combine ½ cup butter, brown sugar, sweetened condensed milk, and corn syrup in a small saucepan over medium heat. Boil together for 5 minutes, stirring constantly. (Note: If you don't stir constantly, the sugar will burn, and the butter will stay separated from the rest of the ingredients. Trust me, I've done it.) Pour mixture over cooled base.
Melt chocolate wafers and chips together in a double boiler (or in the microwave in 30 second intervals, stirring regularly) until thin. Spread over cooled caramel mixture.
Cool squares before cutting.
You might also like: