Brussels Sprout Salad with Toasted Hazelnuts
If you've ever been scarred by memories of your Grandma buying frozen brussels sprouts and boiling the crap out of them, trust me when I say that they can taste delicious if they're done right. I'm a huge advocate for fresh brussels sprouts and probably drive my hubby crazy with how often I make them. If you haven't tried them fresh before – please do!
The recipe I found last night was actually extremely easy to make, and other than the hazelnuts (which could easily be substituted for almonds or pecans), contained ingredients that most would already have on hand.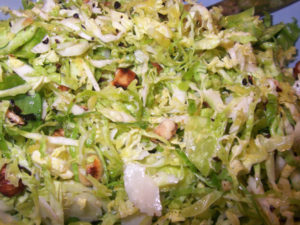 Recipe adapted from 101cookbooks.com.
Ingredients:
1 1/2 pounds fresh brussels sprouts
3 tbsp extra virgin olive oil
2-3 tbsp lemon juice
1 tsp fresh thyme leaves (or approx. 1/2 tsp of dried)
1/3 cup fresh chives or green onions, sliced
2-3 pinches of salt
1 1/3 cup hazelnuts, almonds, or pecans, slightly crushed and toasted
2 tbsp hard, salty, aged cheese, shaved (such as pecorino Romano, dry aged jack, Parmesan, etc.)
Directions:
1. Shred the brussels sprouts whisper thin using a mandolin or knife.
2. Place the shredded brussels sprouts into a large bowl and toss with olive oil, lemon juice, thyme, chives, salt and hazelnuts. Taste and adjust seasonings accordingly.
3. Add the cheese and toss gently to distribute evenly throughout the salad.
Serves 4-6
You might also like: