"From Scratch" Bolognese Sauce
Sorry everyone! I was on hiatus for a couple of days due to a cold going around my house. I'm back though, and have a fantastic recipe to share. I made this for the first time tonight in my BRAND NEW CAST IRON DUTCH OVEN. I'm hardly excited.
P.S. A comment on this recipe said that there was "too much red wine". As if. Is there such a thing?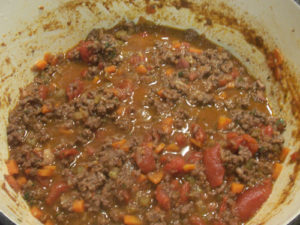 Ingredients:
1 lb lean ground beef
1 tsp fennel seeds
1 tbsp extra-virgin olive oil
1/4 cup chopped pancetta or bacon
1 large onion, chopped
3 cloves garlic, minced
2 carrots, finely diced
2 celery ribs, finely diced
1 tsp dried oregano
1/2 tsp salt
1/2 tsp pepper
1 cup milk
1 can whole tomatoes
1 cup dry red wine
2 tbsp tomato paste
1 bay leaf
1 pinch granulated sugar
1 pinch hot pepper flakes
1/4 cup minced fresh parsley
Directions:
1. In large Dutch oven, cook beef over medium-high heat, breaking up with spoon, until no longer pink, about 5 minutes. With slotted spoon, remove beef and set aside. Drain fat from pan.
2. Meanwhile, using mortar and pestle or bottom of small saucepan, crush fennel seeds; add to beef.
3. In same Dutch oven, heat oil over medium heat; fry pancetta, onion, garlic, carrots, celery, oregano, salt and pepper, stirring occasionally, until vegetables are softened, about 8 minutes.
4. Add milk; simmer until almost no liquid remains. Add tomatoes, breaking up with back of spoon. Return beef to pan.
5. Add wine, tomato paste, bay leaf, sugar and hot pepper flakes; bring to boil. Reduce heat and simmer until thick enough to mound on spoon, about 45 minutes. Discard bay leaf.
6. Stir in parsley; cook for 2 minutes. (Make-ahead: Let cool for 30 minutes; refrigerate, uncovered, in airtight container until cold. Cover and refrigerate for up to 2 days or freeze for up to 1 month.)
Variation:
Slow Cooker Bolognese Sauce: Cook as directed up to point of adding tomatoes; scrape into slow cooker. Add tomatoes to slow cooker, breaking up with back of spoon, wine, bay leaf, sugar and hot pepper flakes. Cover and cook on low for 6 hours or until vegetables are tender.
Stir in tomato paste and parsley; cover and cook on high for 20 minutes or until thickened and bubbly. Discard bay leaf.
You might also like: